SSL Certificates
Secure your site and add trust & confidence for your visitors.
With a range of brands, we have the right certificate for all your site security needs
Choose your level of validation
Domain Validation (DV)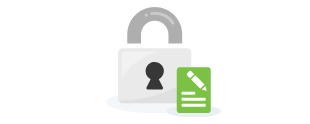 Basic Security
Issued in minutes, ideal for blogs, social media & personal websites
Buy
Organization Validation (OV)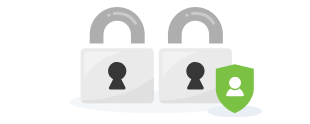 store.ssl.landingPage.ovSubtitle
Company identity included in certificate, ideal for business websites
Buy
Extended Validation (EV)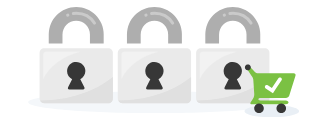 Maximum Protection & Trust
Green address bar & company name displayed, ideal for ecommerce
Buy
What is SSL?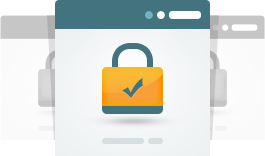 SSL Certificates are fundamental to internet security. They are used to establish an encrypted connection and allow data to be transmitted securely between a browser or user's computer and a server or website.
Establishes a secure connection between a browser and a server
Encrypts communication to protect sensitive information your customers provide to you
Places a padlock next to your web address in the browser
Authenticates an organization's identity
Standard SSL (Domain Validated) Certificates are the easiest and most common type of SSL certificate. OV and EV Certificates also authenticate the identity of the company or organization that holds the certificate providing more trust to end users.
Improve Your Search Engine Ranking
Establish trust and online security for your website visitors and business.
Google wants to make the web safer and a big part of that involves making sure that the sites people access via Google are secure. That's why websites using SSL have been shown to benefit from higher ranking in search results.
There's also a lot more reasons why you should consider adding SSL to your website:
Encrypt sensitive data
Protect user privacy
Secure online transactions
Activate HTTPS and the lock icon
Prove legitimacy
Increase SEO rank
Browsers have changed, don't get left behind


Web pages not served via HTTPS are now being displayed as 'not secure' in
Google Chrome
and
Mozilla Firefox
. Don't let your website be one of them. Add SSL today.
Upgrade to Extended Validation SSL
While all SSL certificates use similar methods to protect and validate your data, the level of trust and assertion they provide varies.
Extended Validation Certificates offer the highest level of validation and trust. They validate and display the name of the company or organisation along with the green address bar which is one of the most highly recognizable trust indicators on the web.
While the need for online security is universal, not all SSL Certificates are created equal. The guide below is designed to help you decide which type of certificate is right for you.
Domain Validation (DV)
Verifies ownership and control of the domain name only
Issued in minutes
Maintains browser compliance
Ideal for non-critical web pages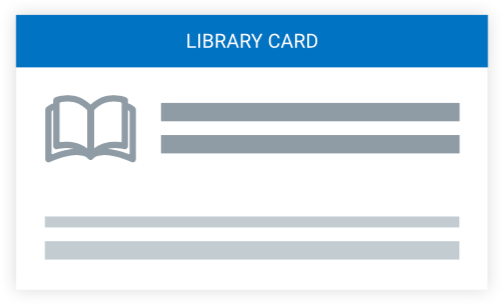 Think of DV like getting a library card—no confirmation of who you really are, very minimal requirements to obtain and issued very quickly.
Browse Domain Validation Certificates
Organization Validation (OV)
Enhanced validation including authenticating the identity of the applicant
Issued within one day
Maintains browser compliance
Ideal for more sensitive webpages such as login pages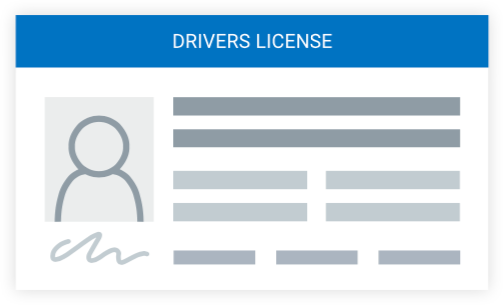 Think of OV like getting a driver's license—more hoops to jump through than a library card but more trusted as a form of identification.
Browse Organization Validation Certificates
Extended Validation (EV)
Standards-based approach to authentication, representing the highest level of authentication for SSL Certificates
Typically issued within 1-3 days
Maintains browser and other industry compliance
Ideal for sensitive webpages including ecommerce, online banking, account signups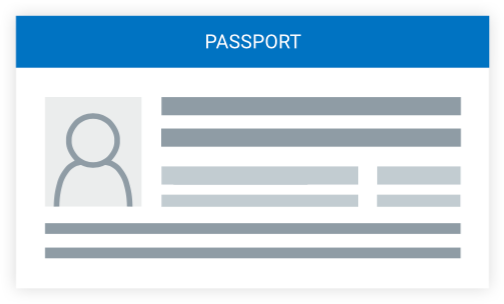 Think of EV like getting a passport—much more stringent processes, longer lead times and more verification of who you are than with a library card or driver's license. Recognized internationally as the most trusted way to verify your identity.
Browse Extended Validation Certificates
RapidSSL

Certificatele RapidSSL® te ajută să păstrezi siguranța tranzacțiilor tale cu criptare de date de până la 256 de biți și autentificare pe site. Cumpără un certificat SSL și grăbește înscrierea cu validarea automată a domeniului. Mai presus de toate, certificatele noastre SSL se numără printre cele mai accesibile din piața. Ne păstrăm prețurile scăzute si împarțim economiile cu tine.

GeoTrust QuickSSL Premium

Asigura-ți rapid site-ul. Certificatele Premium GeoTrust® QuickSSL® sunt una dintre cele mai rapide metode pentru a începe să protejezi tranzacțiile și aplicațiile online cu SSL. Cu un proces automat de autentificare și emitere, este nevoie de doar câteva minute pentru a obține certificatul SSL Premium QuickSSL. Gestionarea și reînnoirea certificatelor este foarte rapidă. Cu GeoTrust, obțineți un SSL ieftin fără a sacrifica confortul, alegerea sau fiabilitatea.

GeoTrust True BusinessID

Business-class SSL - un pas inainte. Când vine vorba de selectarea securității SSL pentru afacerea ta, ai multe opțiuni. Cu GeoTrust, decizia este ușoară. Certificatele SSL True BusinessID GeoTrust® permit clienților să știe că site-ul tau este demn de încredere și că securitatea este tratată suficient de serios pentru a obține certificatul de la o autoritate de certificare la nivel mondial.

Symantec Secure Site

Protecție eficientă la costuri mici și putere de definire industrială. De la numărul unu în securitate. Protejează site-urile non-tranzacționale și / sau interne cu criptare de până la 256 de biți. Fără nici un leu cheltuit mai mult decât trebuie.

Symantec Secure Site Pro

Consolidează-ți securitatea întregului site cu criptarea ECC și evaluarea proactivă a vulnerabilității. Protejază-ti tranzacțiile, datele și comunicațiile cu algoritmii ECC, RSA și DSA pentru cea mai puternică criptare pe care o poti obține.

GeoTrust True Business ID with EV

Bara verde a site-ului este garanția securității tale. GeoTrust® True BusinessID cu EV (Extended Validation) este topul produselor noastre de securitate SSL de clasă business, confirmând vizual cel mai înalt nivel de autentificare disponibil printre certificatele SSL. Bara verde îți dă această garanție. Vizitatorii site-ului web observă când bara de adrese devine verde în browserele lor.

Symantec Secure Site EV

Adăugă securității site-urilor tale memo-uri vizuale că in fiecare secundă orice vizită este protejata. Ofera vizitatorilor tăi o asigurare vizuală că tranzacțiile lor sunt protejate prin algoritmi RSA și DSA. Toate cu un singur certificat.

Symantec Secure Site Pro EV

Combină cel mai avansat algoritm de criptare cu indicii de asigurare vizuală, pentru încredere totala. Protejează-ți clienții cu criptare de până la 256 de biți și cu 3 algoritmi, în timp ce le dai dovada vizuală că se află într-adevăr pe site-ul tău.

RapidSSL Wildcard

Certificatele Wildcard RapidSSL® te ajută să-ți asiguri mai multe subdomenii cu un certificat SSL low-cost emis catre *.domeniultau.ro. Protejează datele tale personale cat si ale clientilor tai cu criptare de până la 256 biți. Validarea automata de control a domeniului ușurează total autentificarea site-ului. Cu RapidSSL iți furnizăm protecția de care ai nevoie la un pret competitiv

GeoTrust True Business ID Wildcard

Simplifică gestionarea certificatelor cu ajutorul unui certificat Wildcard. Certificatele GeoTrust® True BusinessID Wildcard iți permit securizarea mai multor subdomenii pe un singur certificat, reducând timpul si costul gestionării. Fie că este pagina de pornire a companiei fie numele de gazdă al serverului tău de poștă electronică, protejarea informațiilor sensibile este obiectivul tău și este și al nostru.
What is an SSL Certificate?
SSL Certificates enable data encryption on the internet and allow data to be transmitted securely from a web server to a browser. With SSL, your website can use the https protocol and will display a padlock in end users web browsers to indicate the connection is secure.
Why do I need an SSL Certificate?
SSL Certificates are an essential part of the internet. They not only encrypt communication between your computer and the server where a website is located, but they also provide verification that a site is what it claims to be.
What are the different types of SSL?
There are 3 different levels of vetting that SSL Certificates are based upon. Domain Validated (DV) , Organization Validated (OV), and Extended Validation (EV). The major difference between the types of certificate relates to the information the Certificate Authority, RapidSSL, GeoTrust and Symantec, requires and validates in order to issue a certificate. The higher levels of certificate require more information, and often is displayed in the browser bar. EV SSL for example turns the browser bar green and displays the organization name to visitors to generate more trust.
What is a Wildcard SSL Certificate
A Wildcard SSL certificate provides the same encryption and authentication features as other SSL certificates but can also be applied to an unlimited number of subdomains of a website. A Wildcard SSL certificate supports the root domain (example.com) as well as its subdomains. Aflați mai multe
What are the advantages of an EV SSL Certificate?
EV, or Extended Validation, is the highest class of SSL available today and gives more credibility and trust to your website than other SSL Certificates. They include features such as the green address bar and display of your company name that have been proven to boost trust and consumer confidence.
What if I already have an SSL Certificate?
You can switch to us at any time. We offer highly competitive pricing and if you already have an existing certificate, we'll add any remaining validity that you have on your existing competitor SSL Certificate up to a maximum of an additional 12 months. Aflați mai multe
Our SSL certificates are from some of the most trusted brands in Online Security.



Powered by WHMCompleteSolution